Statement on Mass Murder in Sri Lanka (April 24, 2019)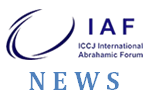 The International Abrahamic Forum expresses its horror at the mass murder of Christian believers gathered for Easter celebrations in Sri Lanka as well as others visiting Sri Lanka and staying in hotels.
We express our deepest condolences to the families and friends of those who were killed and wounded, and our deepest solidarity with Christians throughout the world in this terrible hour, who have suffered unspeakable terror on the holiest day of the Christian calendar year. We categorically condemn this violent and evil behaviour, which has no place in civil society.
We condemn the widespread and worldwide growth of intolerance, racism, xenophobia, Islamophobia, Antisemitism and terrorism.
We call for greater efforts by government and civil organizations everywhere to teach and promote appreciation of our common humanity.
Events such as this call on people of all faiths and no faiths to redouble our public, vocal opposition to all forms of bigotry and prejudice, to insist that leaders promote the common good of everyone, and to recommit ourselves to practising dialogue on all levels.